The ThermoBio™ for baby, kids and adults is designed with advanced infrared technology to accurately measure body and object temperature from a distance avoiding any contact.  
Measurement can be taken in only a couple of seconds by aiming in the middle of the forehead, behind the ears or object such as water.
Temperature reading for yourself and family has never been more accurate, fast and easy!
SHIPPED FROM California, USA (2-3 Business Days Delivery)
FDA CLEARED: Our infrared non-contact thermometer has been cleared by the FDA, ensuring that our product meets the highest quality and performance standards.
QUICK & EASY - Simply aim at desired location, press one button and your results are displayed within 1 second so you can take action immediately.  
HIGH ACURACY - This non-contact IR digital thermometer provides highly accurate readouts, having passed multiple performances standards and tests. We have a test–retest reliability of ±0.5°F (0.3°C).
LONG-TERM RELIABILITY: Lifetime and reliability tests have shown our IR forehead thermometer to last a minumum of 1000 hours of usage.
MULTIFUNCTIONAL MODE: The thermometer includes two modes, "Body" and "Object" mode. "Body" to read body temperatures and "Object" to also measure the temperature of water, bottles, food and more.
FAHRENHEIT OR CELSIUS: Switch between your prefered temperature measurement type ℉ or ℃.
AUTO POWER OFF - The device is programmed to automatically switch off after 15 seconds if operation is not detected.
​FEVER ALARM - If the temperature is above normal range, a warning sound and red LCD screen will result.
MEMORY FUNCTION - The latest 32 results are stored as memory for tracking of temperature changes.
Press and hold any button to turn on the device.

Aim and keep 0.4 -2.5 inches from forehead or targeted location.

Results are shown within 1 second.
Model: Thermobio™
Weight: 70g
Precision: 0.2°C
Range: 32°C -42.4°C
Usage: Temperature of body, water, milk etc...
Measuring time: Less than 1 second
Automatic shutdown time: 15 seconds
Memory recall:32 readings
Measuring distance: 0.4 - 2.5 inches
Color: White
Certificates: FDA, FCC, ROHS, CE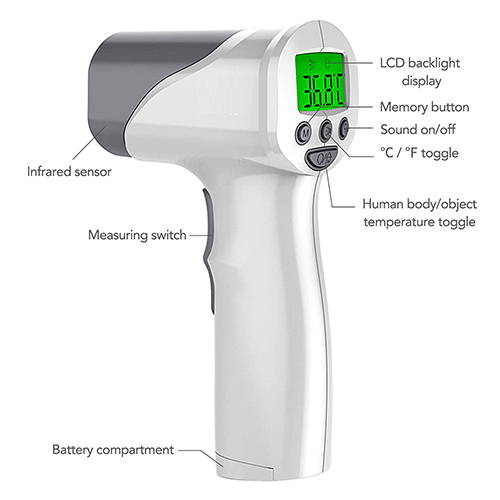 1X Thermobio™

1X Manual

2 Years Warranty